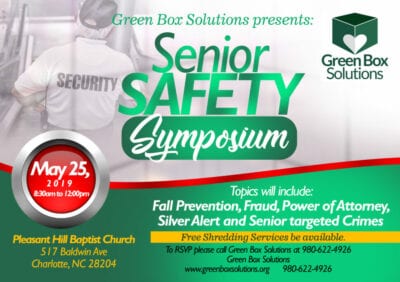 Local Non-Profit Green Box Solutions To Hold Senior Safety Symposium
KEEPING SENIOR MOMENTS SAFE – MOMENT TO MOMENT
CHARLOTTE, NORTH CAROLINA, APRIL 25, 2019 –Green Box Solutions will offer a free Senior Safety Symposium on May 25, 2019 at Pleasant Hill Baptist Church, 517 Baldwin Ave. Charlotte, NC 28204 at 8:30 AM for all area residents.
Long before the wheel, domesticated animals and soaring cities, our ancestors cared for their elders and, in doing so, that senior moment surge in human survival triggered a cultural explosion and longevity for the entire human race. Senior citizens are the key to our success as a species. These days, no matter how independent our elderly citizens are, there is always the risk of both a physical fall and/or falling, quite accidentally, into a fraudulent scam. Seniors and their loved ones are encouraged to participate in this educational forum that will highlight: Fall Prevention, Fraud, Power of Attorney, Silver Alert and Senior Targeted Crimes.
Green Box Solutions emphasizes preparation; believing that families should always be prepared for emergency and end of life situations. They provide organizational tools and kits (Green Boxes) to help families prepare and plan in order to reduce stress when dealing with unplanned medical and life events.
The symposium is another way of providing the senior community and their loved ones with information to navigate the entire arena of senior safety
Erin Welborn, President, Green Box Solutions, says, "Green Box Solutions is excited to host the Senior Safety Symposium. The event will provide an opportunity to learn and ask questions from local Safety experts." Welborn adds, "Our speakers will address how to legally, financially and physically protect Seniors. Seniors are especially vulnerable to fraud and crimes. We believe the community must be proactive in protecting them,"
The Federal Trade Commission reports that 18 percent of victims aged 70 or older lose money in financial scams. In addition to financial planning, Green Box experts will explore other ways – both physical and otherwise – of keeping the senior population safe.
"Green Box Solutions has played an integral role in my grandmother's transition from independent living to assisted care living. We have peace of mind that Nana is prepared for the future. We are forever grateful to the experts at Green Box." says Q. Smith a beneficiary of Green Box Solution services.
A light breakfast will be served and document shredding services will be available on site.
For more information and media coverage please visit www.GreenBoxSolutions.org, email info@greenboxsolutions.org or call (980) 622- 4926
#######
Green Box Solutions mission is to provide both the elderly and their caretakers with all of the education, preparation and resources that they will need, to ensure a smooth transition to this next, natural stage of life.